Metaverse is a trending topic.
People are trading in NFT, playing Meta games, and buying land in Metaverse.
Who are these "people"?
Millennials (30%) and Gen Z (50%) prefer virtual meetups with friends.
The younger the generation, the more digital-first they are.
The more Meta-friendly they are.
Since all their experiences are digital, education should be digital too!
We are talking about Education in the Metaverse.
Potential of Metaverse in learning and development
Students (more than 97%) love a VR-based course.
Imagine a virtual reality classroom in Metaverse.
You are surrounded by Aztec culture. Ancient buildings and markets are all around you. A stone pavement under your feet and the air full of vendors calling for attention.
The atmosphere is so astounding that you feel transported back in time straight from your couch.
What a fantastic class that would be!
This Metaverse class is not limited to K12.
University majors and vocational courses can do this too.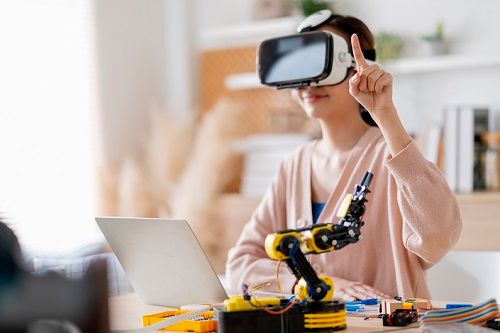 Metaverse Higher Education Platform
How can colleges and universities make use of Metaverse? You can't go on an expedition for every chapter. Can you?
Yes, you can. You can learn on-field skills, job skills, and survival training.
Everything from rocket science to micro-biology becomes an odyssey in Metaverse.
You can even run interviews or marketing simulations.
In fact, Invact Metaversity is offering programs that will help students get high-tech placements. Their waitlist is open.
You can fill out an application, or better, you can create your own Metaverse course.
Metaverse Will Change The Face of Education
Why do you think teachers use movies and class tours for some lessons?
That's because we retain 80% of the visual information we get around us.
We need a method, essentially a tool, that can engage the students.
For this learning and development, Metaverse is THE right tool.
Live-action practice
Would you understand Physics better if you saw your textbook diagrams about mass, weight, and gravity overlapped on a live rollercoaster?
Metaverse can make this live-action learning possible. In fact, you can go on a VR tour of the White House right at home.
Not taking advantage of such a golden opportunity is a big waste.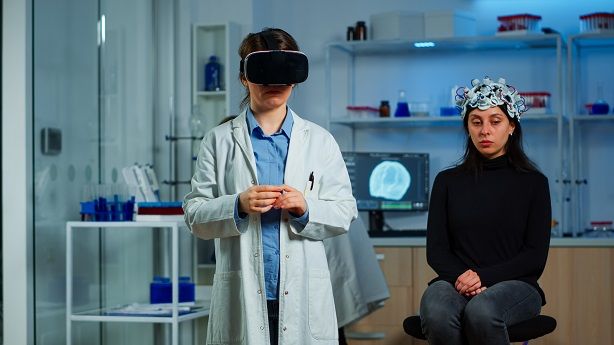 One of the first schools in the country to adopt Metaverse was Dallas Hybrid Prep.
In 2021, it started advanced online classes for students who opted for this system.
These classes had:-
Teacher-led tours
Gaming style assignments
Collaborative online projects
Student-wise customization
Students who got to put "theory into practice" have shown keen interest in Metaverse-based learning.
Eduverse is doing the same for K-12 (Kindergarten to Class 12).
Learn-as-you-play
Educational games have been forever popular.
The learn-as-you-play idea is not new.
Metaverse is the next step in learning and development for the EdTech industry.
Roblox, a gaming company, is also working in this direction. It has a monthly user base of 200 million; two-thirds are school age.
They have an entire game section for teachers' use. You get access to:-
Pre-made templates
Customized game levels.
Ability to invite individual students or a whole group.

Resources needed to make virtual education a phenomenon

To adapt Metaverse into the education system, you need resources.
You need headsets, training programs, educational game templates, and more.

The market for virtual reality education is expected to grow to $32.94 billion by 2026.
This means, soon enough, they will be widely available.

Headsets

"14.94 million units of AR and VR devices are to be shipped worldwide in this year alone."

After voice devices, Headsets are increasingly popular everyday items at home.

Microsoft has launched Hololens smart glasses to go along with its own Metaverse educational programs. This is a sleeker model than the headsets we are used to seeing.

The Meta- Microsoft partnership is a defining step in the Online Education segment.

Metaverse courses

Last year, Fisk University planned to make VR programs for pre-med and biology courses.

The question comes, How do you design a metaverse course?

What you need are:-

Subject experts,
Educators familiar with Metaverse,
Developers to bring these ideas to life,
A land in metaverse to develop these courses, and
Educator and developer collaborations.

You need people to breathe life into this small budding concept of education in Metaverse.

Training programs

Students are easier to flock to Metaverse, but what about Educators?

People who are going to teach these students need to be attracted and trained in multiple new technologies.

They need to learn about

Metaverse
Metaverse teaching
Content customization
Live-action expeditions

Where will this training come from?

You need Metaverse education platforms dedicated to not students but educators.

Welcome, K20 Educators, an early platform that helps K-20 teachers explore, trade content, and even find jobs.

We need more of these. Will you be the one to make it happen?

Conclusion

The tech world has changed with Meta.

The education system is catching up.

Schools like Dallas Hybrid Prep are paving new paths.
Organizations like Brookings work on fundamental policy changes.
Small programs can be found on the web to teach educators.
And Gaming companies are thinking about educational development.

Roblox aims to engage 100M students in Metaverse learning by 2030.

The education sector has begun seeding its roots in Metaverse, and the future is bright.

This is an exciting time for education in Metaverse. Now would be a good time to start for anyone who wants to develop their own programs and Metaverse learning platform.