Zomato just had a dream run today. Never in their distant imagination, the great team of Zomato would have thought about this big bang that happened.
The company is now a $13.3 billion (about ₹99,000 crore) worth giant. And just a day before the IPO, they were a $1.3 billion (about ₹8000 crores) company.
Look what the confident backing from the market did for them.
And, let's not forget the 10 years of extreme hard work, dedication, and love that the team put in towards what they believed in.
Over the years, having seen Zomato transcending from one phase to another, I have noticed them shifting gears from how they run their operations and marketing campaigns.
The way they got into starting operations from many parts of the world or folding from a few that were not proving successful enough.
How they were changing the experience in terms of platform design, or how they subtly made moves from reviews/ratings to restaurant booking to a few other half-hearted experiments in between, to the ultra-successful food and grocery ordering platform, Zomato had an incredible journey.
Let's applaud their great efforts for all these times of constant hustle. We cheer for them and wish them the best of the times that are coming ahead.
What they must be feeling right now, let it sink in for a few days. As this time must be that once-in-a-lifetime moment for them.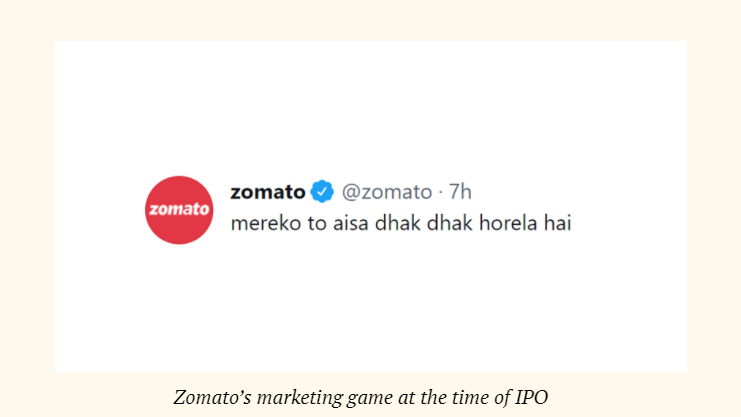 "What does it mean for the Indian entrepreneurship mindset"
Growing up in India in the '80s and '90s, I have seen the country changing. How we used to be inwards in our culture and sports equally, and how there was a paradigm shift of the feel-good factor in the early 2000s that made us constantly experimenting in the new millennium.
If we could go back in time to the 1700s: India had the 25% GDP of the world.
The traders, kings, and maharajas of that time used to have a winning mindset and monopoly in a few cases.
How did they use to think? What was the exact attitude of these traders? We should have the stories of those times.
Even without the advent of the time machine, I really believe we should go back in time and learn lessons from those skillful traders.
The world wanted a lot of agricultural produce, and India pivoted to provide for the world.
One thing that stands out for India over time is that it's a paradigm nation. Thanks to the firepower of word of mouth, we all move in one direction, the direction where the perceived success lies.
And so, the Zomato IPO would ignite those dreams among many. This is going to be one of those moments that would change this generation's thinking about opportunities.
For sure, foreign investment would come, owing to a really huge Indian market, and the potential of building great companies. Think of it, we are a population of the combined population of the continents of "Europe, South America, and Australia", and all bundled into a geographical area lesser than their size. This makes for a great market!
If the government and entrepreneurs connect the dots over the supply chain, we have already championed fast internet speeds (and very soon going to do the same in renewable energy), we will create a great atmosphere for doing business with ultra-speed.
What a big advantage is this for entrepreneurs, and not just the ones from India, but around the world. They have a huge technology building force already in India, and they can make products in India which run around the globe, taking great advantage of the talent.
As Zomato has made many investors richer, I think there's going to be many smart investors around the world going to be investing in Indian start-ups. I wish them great success.
"What next for Zomato"
Zomato would look at using the capital into building its own chains of cloud kitchens, and that too around the globe. They will use more green energy, acquiring companies and start-ups that align with their vision, and ultimately making their growth sustainable in many places.
They can now use this well-deserved capital into:
- Building an organic cloud kitchen. India has a group of people in urban areas who would want to pay a premium to get the right food. The organic kitchen would have every menu item made from organic veggies and fruits (and spices). This is the need of the times and Zomato may find success in this.
- Also, they could foray into more on-demand delivery areas like pharmacy, meat, and gifting. These would add to make it a super-app.
- And also, the natural way for Zomato to grow would be to step big into Grocery deliveries. This market, although has Big-basket, I think if the deliveries could be made faster, there's a potential disruption happening here.
- And they could even make/buy e-scooters. This would not only be a good fundamental towards being more energy-efficient but this way there would be lots of delivery riders who would be willing to carry Zomato deliveries. They must build Zomato exclusive e-charging stations for their delivery staff, and the exclusive gold members could use this too. It's a win-win.
There are lots of ideas floating in my brain, but I think this is just a glimpse related to what they may do.
However, we are also rooting for Swiggy (among many other good startups). We have a soft corner for Swiggy, as we are the first ones to build the platform for them. Swiggy, you are also going to grow bigger, because when the competition rises, The real game starts.