Who doesn't want to stay in ideal shape?
So did MyFitnessPal founder, Mike Lee. But he didn't just keep his weight in check. He built an app to do this job for him.
Soon enough, his family and friends started showing interest in the app, and he dedicated himself to developing it full-time.
That was 2005.
In 2009, MyFitnessPal App for iPhone was first officially launched.
Today, the app has more than 200 million registered users.
This obviously piques your interest in MyFitnessPal's business and revenue model.
Let's take a look.
How does MyFitnessPal work?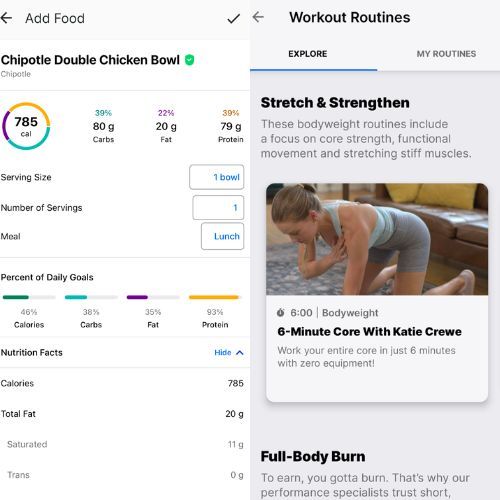 The first time Mike Lee and his fiance went to see a trainer, they were handed a book of over 3000 foods and a notepad to tally daily nutritional intake.
Can you imagine that? Doing this on pen and paper every day?
How cumbersome! No wonder he made an app that would do the job for him.
The MyFitnessPal health app was made with convenience and user ease as its primary goal.
Using the app is pretty straightforward.
You can easily create a fitness profile.
Set your fitness goals.
App sets a calorie limit per day based on your goal.
Log your daily meals and fitness activities in the app.
Follow the calorie limit of the day.
Get updates to track your progress.
Feed your progress into the app.
Adjust your goals accordingly.
Stick to the process.
What people especially love about the MyFitnessPal app is the easy information entering.
The app has over 11 million food items with nutritional value to help your calorie count.
Your regular exercises, favorite meals, or intakes are saved over time.
As you keep using the app, the logging process becomes quicker.
MyFitnessPal Business Model
Apart from their large food base, they also cover over 350 exercises.
But that is not a significant benefit. The significant benefit is a community environment and a reward system that can keep you motivated for your goals.
The app's goal is simple.
You must achieve your fitness goal.
To do this, they do calorie evaluation, barcode scanning, expand databases, make valuable partnerships, and more.
We can clearly see the original intentions are still at the heart of the app.
No wonder it is one of the top health and fitness apps today.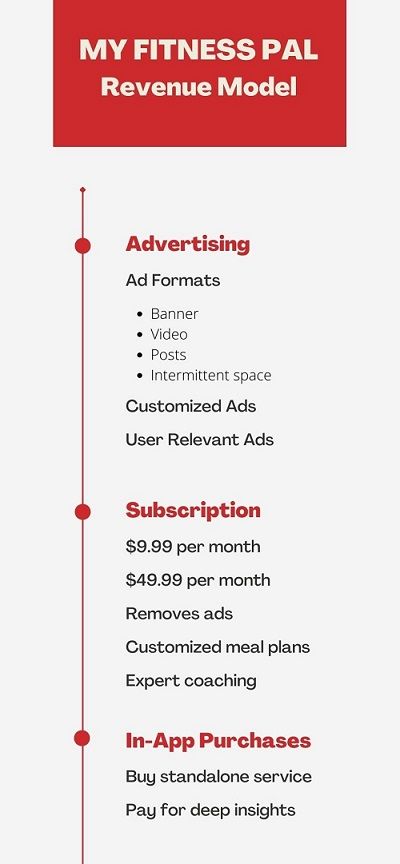 How does MyFitnessPal make a profit?
In 2021 alone, the app generated a revenue of $171 million.
Since they follow a freemium model, the question beckons, what revenue streams do the app follow for its success?
Advertising
MyFitnessPal for Android and iOS apps earns through ads.
Their main partners are food businesses, fitness studios, and other tracking apps.
The ads are made sure to be user relevant
Ads are customized for user and advertiser value.
Banner, video, intermittent spaces, and posts are some of their ad formats.
Subscription
Want no ads? Want access to a more extensive database of nutrition?
Try their subscription.
Includes customized meal plans and access to experts and coaches.
The cost of MyFitnessPal monthly plan is $9.99 per month.
The yearly subscription is $49.99
Removes ads

In-app purchases

Consider this a younger brother to the subscription.

Pay for only those premium services you use.
Purchase any of the services as a standalone.
Pay a small fee for deeper insights.

In 2020, the change of CEO also expanded the app's revenue streams to include broader categories like apparel.

This created a more comprehensive range of advertising and partnership opportunities for the app.

Conclusions

The latest acquisition of MyFitnessPal has been to the investment firm Francisco Partners at $345 million.

This stands as its last evaluation.

The future prospects look bright as it treats its competitors like Fitbit and Strava as critical partners.

In fact, MyFitnessPal for iPhone initially launched a step counter.
The purpose is not to count steps.
The purpose was to sync data from partner apps like Fitbit, Pacer, and more to give the user an elevated experience.

Since then, the ideas have only expanded to accommodate more and more user needs.

Their focus on a customer-first mindset makes the app and its future possibilities exciting for us all.

FAQ

Ques 1: How much does it cost to create a fitness app like MyFitnessPal?

Ans 1: The price of your fitness app totally depends on the features and functionality you are expecting. A simple app will cost you less than a complex one. But, for the exact figure, you can discuss it with the illuminz team.

Ques 2: How many foods are logged in MyFitnessPal's database?

Ans 2: There are 14 million foods logged in MyFitnessPal's food database.