"At least 40% of all businesses will die in the next 10 years, if they don't figure out how to change their entire company to accommodate new technologies"
-John Chambers, Cisco.
Retail industry is more competitive than ever and only a unique experience can capture their ATTENTION and WALLETS.
Customers have become technology savvy and more aware of their needs, and in such circumstances, it is most likely that the old traditional or conventional businesses might face a downfall if they do not update themselves with the market needs.
How can a retailer stand out from the crowd and provide an everlasting experience to their customers?
Digital Transformation In Retail
Retail digital transformation is not only limited to building a shopping cart website but it is much more than that. It involves making the changes in an organization's supply chains, operations, inventory management and also building customer relationships.
The data is analyzed and stored efficiently using technologies and is used to accurately determine the demand, ship products more efficiently and to be able to react to customer needs.
Here's how development in technology has affected retail industries over the years-
Progressive web app technology
Owing to the Covid 19 lockdown, people have started using phones now more than ever. And taking advantage of this, companies that switched to PWA (progressive web app technology) or to cloud technologies have noticed an increase of 20% to 250% in their engagement.
Automation has transformed the figures completely
Since the involvement of technology such as robots, automated checkout and drones in retail industries- the figures have never been the same.
Here are some of the shift in figures that we have gathered:
Drones have cut delivery cost by 86%
Warehouse robots have reduced manual labor cost by 70%
50% of shoppers use unattended check out owing to the speed improvements.
ERP integration helps win customer's trust
Almost all shoppers feel anxious when shopping from an unknown website and usually avoid doing the same.
To win customer's trust over the years, retailers started using ERP integration to communicate real-time data of the products, their shipping and pricing.
Benefits Of Digital Transformation In Retail
Here is an infographic to help you understand better.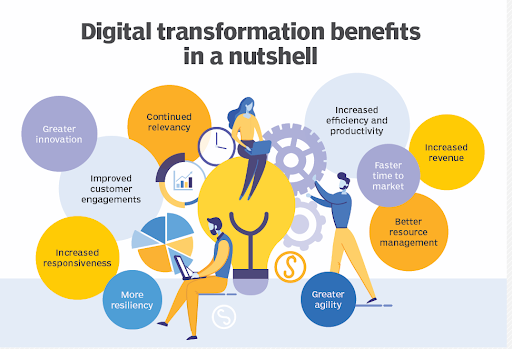 Digital Transformation Challenges In Retail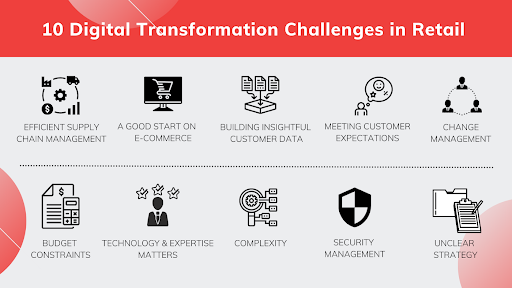 Transformation in Retail Over the years
Let's see how the retail industry has transformed over the years.
PAST :
- Remember the little shops that existed (no hassle, just try the product and purchase if you want to)? Those were the times right?.
- In the beginning, retail industries were all about signage and packaging. These were the only two differentiators that informed customers about the style and quality of the product.
- During the industrial revolution, the concept of "celebrity marketing" came into existence i.e. providing free products to nobilities to get more publicity and increase the repo of the products.
- As the market developed a little, retailers used their market experience and instincts to understand their customers. Magazine ads, Billboards, marketing emails and online banner advertising were some of the methods used by the retailers to entice shoppers.
PRESENT :
- Amazon is one such example of the present rulers of the retail industry.
- Technologies like big data have completely changed the way retailers sell products to consumers today. In today's era, retailers are much aware about the customer preferences and can easily retain data through analytics.
- The advertisements have become more targeted and speak to the needs of different groups of the audience. Customers these days are thorough with information about the pricing, competition and also the products of their likings.
- The services have become more quicker and instead of paying in-person visits to the store, everything is available online anywhere any time.
FUTURE :
- Heard of Amazon Go? Well, that's the future!
- In an initiative taken by Amazon for advancement, they launched a chain of convenience stores - Amazon go. The stores are cashierless & partially automated. Meaning, the customers can check out without having to wait in a line for a cashier.
- While this kept me wondering if Amazon Go is a good idea, the figures proved me otherwise. 54% of the consumers who visited Amazon Go rated their experience as "excellent" and the rest thought that it was "good".
- From paying cash, to paying cashless and now going cashierless - well, technology sure has come a long way.
If you are looking to implement digital transformation in your retail business, think globally. It's not just a custom website development, but a more immersive experience that needs to be seamless across all your channels.
Make digital transformation a whole and inseparable part of your business - and everyone including your customers will notice!