Nothing fuels your business growth more than a good marketing strategy. That's exactly what Decathlon did!
Yes, today Decathlon stands neck-to-neck with brands like Adidas, Puma and Nike.
Image by commons.wikimedia.org
But how did Decathlon achieve it all? Let's find out.
How The Seeds Were Sown
Well, Decathlon started its journey as a wholesaler in Lille, France by Michel Leclercq in 1976. And eventually started expanding abroad only a decade after its launch, establishing its franchises in nations like Germany, India, Portugal, Spain, UK, China etc.
The company aims to make affordable sports apparels and accessories that power the spirit of sports in everyone with its innovative style.
The Deepening Roots
This "restricted to sports" shopping complex is growing at an accelerated pace , manufacturing for over 80 sports and brands.
That's true, Decathlon has integrated its different brands with different verticals of sports — FLX for Cricket, Kipsta for Team Sports, Perfly for Badminton and so on.
The Growing Plant
Shopping at Decathlon stores is always a delight. The stores are designed with ample space and apparels are arranged in a strategic way for easy access.
The staff, very smartly, sell the products by using and playing with them in front of their customers. This way, the customers not only see the quality of the product but also undergo an urge to buy it. The staff also allows you to test and try the products within the stores before actually buying them.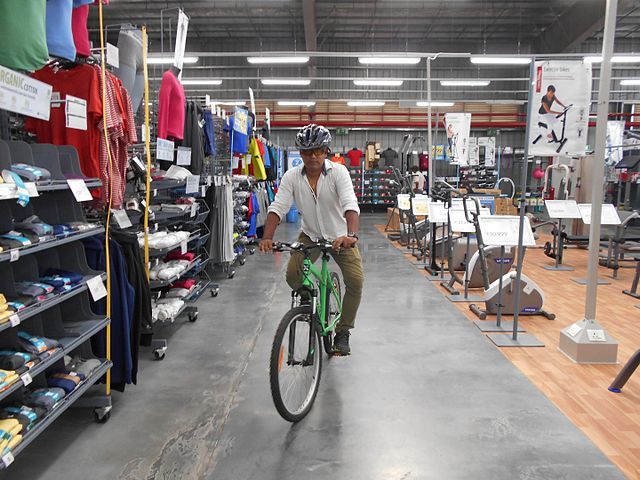 Image by commons.wikimedia.org
In addition to all this, the brand follows a mind-blowing marketing strategy built around 4 P's of marketing — product, price, place and promotion.
Product Strategy
Decathlon offers its customers a wide range of products, apparels and accessories, for both men and women for almost every sport category possible!
Pricing Strategy
As mentioned previously, the brand aims to athlet-ify everyone. And to encourage this, it keeps its price 20% less than its corrivals, with no compromise on quality.
Place and Distribution Strategy
Decathlon is expanding its global presence. No kidding! More than 1600 stores running successfully in 65 countries speak volumes about its distribution network.
Promotion and Advertising Strategy
Decathlon focuses on high product-quality relations to keep the prices affordable for everyone while maintaining the quality. And promotes its products through customer experience and word-of-mouth.
The Ripen Fruit
After putting so much effort into researching what's best for its customers, innovating ideas and designs, Decathlon has established itself in the world of sports and activewear and gear.
With its presence across the globe, Decathlon has now become the largest sporting goods retailer in the world.
All because of Decathlon's values and a good marketing strategy!