Digital branding is one of the most important strategy for every business, since Internet has completely replaced the need of yellow pages for local business listings.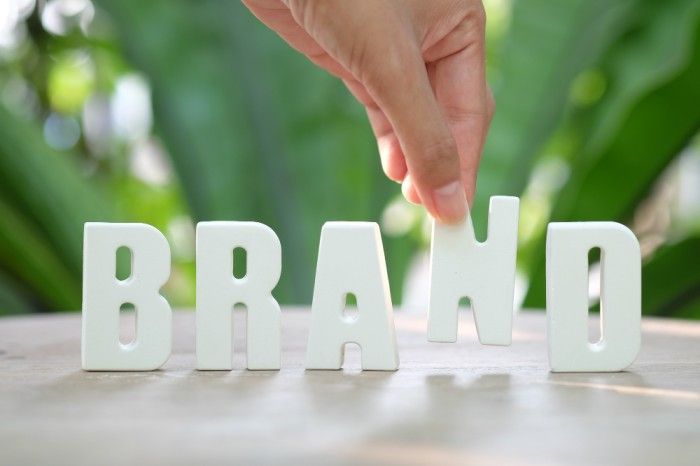 And this is the reason, that every restaurant business needs a strong web presence.
If you are a food business that wants to increase restaurant sales, here's an ultimate design guide with some tried and tested branding strategy for restaurant that will work wonders for your food business.
1. Pick out a unique brand name
Your name is the extension of your brand and adds value to your brand. The golden rule to follow here is to make sure your brand name supports your motive.
Pizza Hut won't have gained popularity if the brand was named The Kansas Company or something that did not say pizza.
Picking out the right brand name for your restaurant is very important. Choose something unique that does not appear in Google search. This is how your brand will quickly make its way on the search engine results page (SERP).
2. You need a website
Sooner or later you'll realize that your brand needs a website. But here are some questions you need to ask yourself:
What will your website look like?
Initially, all ideas seem simple and every goal seems achievable. Though this is a great approach to start, unfortunately projects aren't that simple to start with. When you start designing a website without an objective in mind, you'll come across several challenges and unforeseen bottlenecks down the route.
Speaking out of our vast experience in building websites, it is important that you set your objectives right and lay out a plan before you set your sail on design. Work with your initial idea and pen it down on paper.  Ask yourself questions like-
1. What all needs to be on the home page?
2. Where your brand logo is supposed to go?
3. How would you place your content?
Only after you understand the application you can scrape out the possible challenges that designers, developers and project managers can face in the near future.
It is only when you start asking questions, you can better understand what you want to create.
3. Create a logo
At only one glance, your logo should communicate the purpose and services of your restaurant. From a branding point of view, the website logo placement plays a huge role and helps you secure your brand identity.
Beautiful logos create beautiful brand images that stay for long in the customer's mind.
Here's what you need to keep in mind while designing the logo of your website:
Color: Choose colors that are natural and more relatable to food. Bright colors like yellow and pink might catch attention at a glance but users will take time connecting them to your business. Instead, go for more relatable colors like muted reds and tones of green.
Fonts: Fonts are important when you want to use your restaurant name as logo. Font logos are hugely in trend and gives your brand a professional image. Especially when you want to replicate your logo in prints on the restaurant's napkin and menu. The less intricate it is, the more clear it appears on paper.
Shapes: Geometric shapes combined with the fonts and colors make one of the best logos for brands.
4. Choose a color theme
Colors are powerful tools for shaping how your customers take your brand. And they can affect your customer's behavior.
While designing a chinese food joint we prefer choosing red from the color pallet. The simplest reason for this is that Chinese consider red as the color of joy! One can easily relate food with happiness and this why red is such a perfect color to represent a chinese restaurant.
Likewise, restaurants serving healthy food prefer natural colors like green, yellow and white in their theme as they give out a more fresh and healthy look.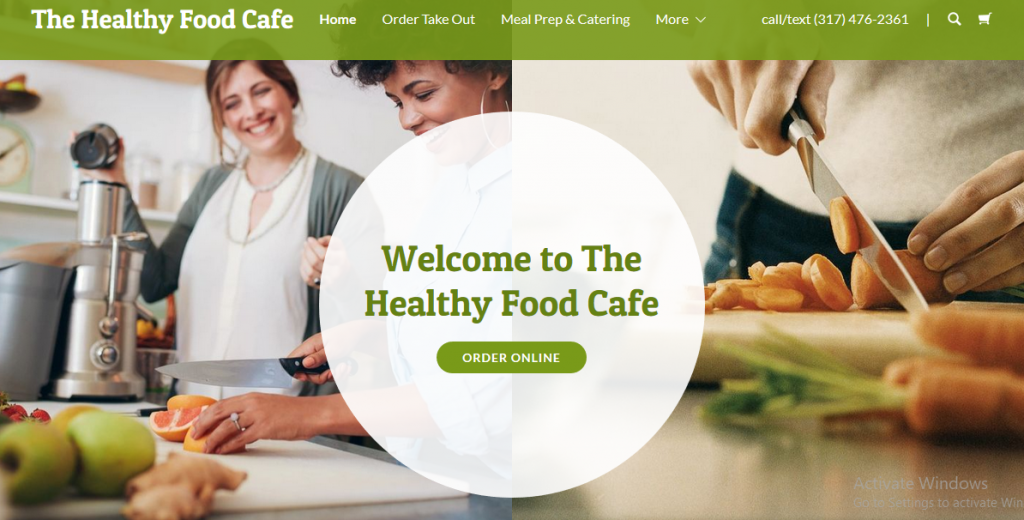 HomePage of The Healthy Food Cafe
5. The right font
We are not just talking about beautiful looking alphabets. Fonts are much more than that. They help you get consistency in design and gives meaning to your content. Though there are a range of font options for you (from crazy looking to strict fonts), you must choose the font that is easily readable and supports your character.
For a restaurant, you have a ton of options. Here is the list of the best ones.
Timberline

Timberline is one of the most characterful and natural looking fonts. It is beautifully crafted and its graceful strokes comes across as a handwritten note that appeals foodies to join a mouth watering experience.
Giaza Pro

Giaza is a more upscale and multilingual font that brings out a more fine dining experience. It is more stylish and works in creating a more affluent brand.
Thirsty Soft

As the name suggests, Thirsty soft is a soft font with a warm and vintage appeal. This font is perfect for branding coffee shops and ice-cream parlours as the font invites customers for a chilled and relaxed evening.
6. Adding customer reviews
Every restaurant owner knows the importance of good customer reviews. So adding them on the homepage of your website becomes a plain necessity. While good ones can instantly boost your sales, bad customer reviews can close down your business.
Every restaurant has both types of reviews, however, having more positive reviews is always an advantage. Foodies share a selfless bond among themselves for calling out all other food admirers to visit the new place they just enjoyed. This is why your brand must have active social profiles on websites like Tripadvisor and Toptable.
7. Imagery works wonders
Good food should look good on-screen. This is why professional photography is getting popular for web portals for their online success. Every restaurant has specialty dishes which either are profitable or taste delicious. Pictures help you sell out those dishes and keep the customer flow steady.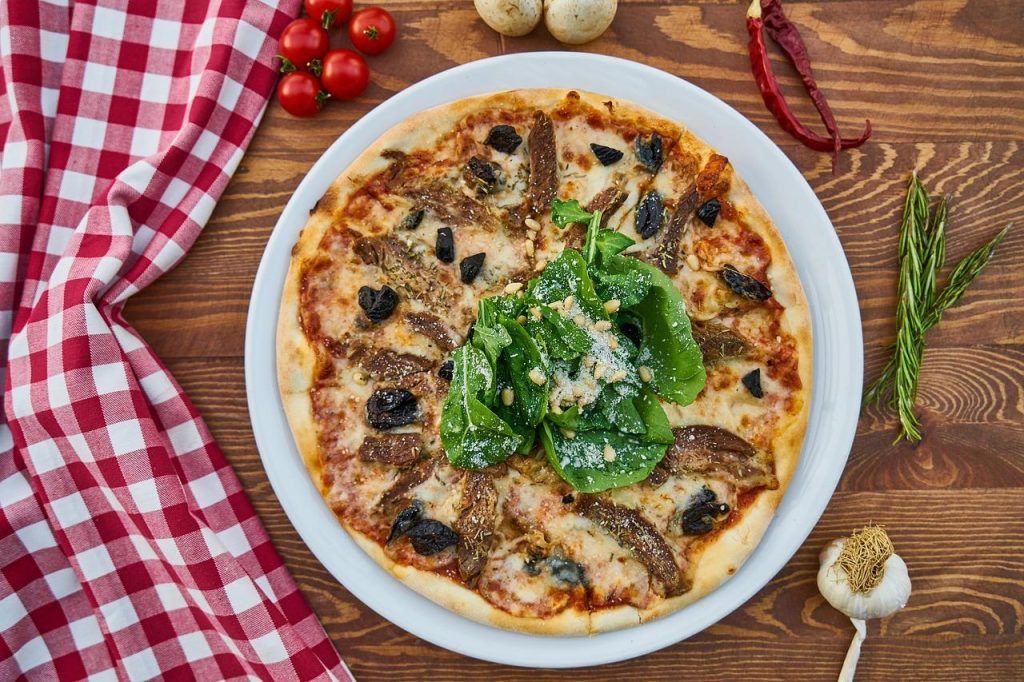 Food images
Also, beautiful imagery on the website keeps people curious about the taste. Once you have professionally clicked photographs of the food, strategically arranging them in order on the portal also works amazingly well as your customer see what you want them to see.
8. Use beautifully crafted videos
It's always about creating the right feel. Your customer's website experience should be somewhat similar to what they feel on entering your restaurant.
Clear and alluring videos are a big advantage for branding your food joint. While some restaurant owners prefer to add food videos from the chef's kitchen, some capture the art of plating of each food item. Your video can have either one of these or both.
Videos are of great use while designing a website for restaurant. According to our research, websites with videos on the landing page resulted in 50% more sales as compared to websites with simple and plain imagery.
That is the power of good videography.
9. Make sure you send out right posts on your social media too
Branding is not just limited to your web portal. Ads and offers that you send out on social media are equally important. Social platforms like Facebook, Instagram and Twitter play huge role in your online marketing success.
Here's how Sweetgreen is maintaining its social presence all over the web.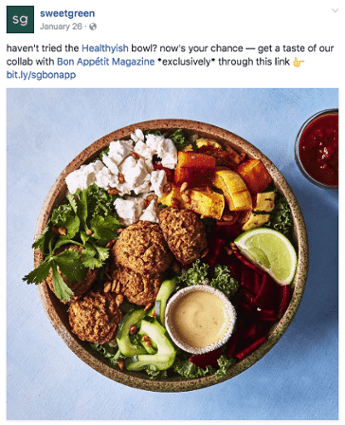 Instagram page of Sweet Green
10. A contact us form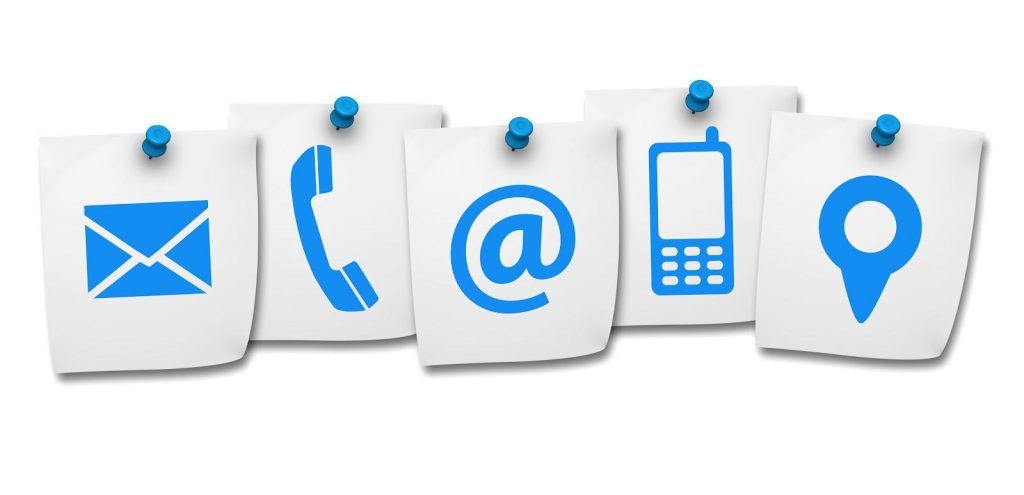 Give your customers a mode to reach you
Never complete your restaurant website without adding a feedback and contact us page. The Contact Us page must have a map to your restaurant with an email id and phone number for your customers.
11. Be consistent with your brand identity
Last but not the least, your brand identity should have consistency. It's like the signature dish of your restaurant. It should always taste and feel the same. Your brand identity includes the color scheme, photography, tone of copy and style. If you are compromising any of these, you are risking your brand reputation.
Conclusion
With so many internet users, it is the right time for you to make a mark on the web and make your customers feel your presence. If you are not on the web you'll be hardly recognized and your brand will lose out on the huge exposure from the audience.
Branding is all about grabbing customers' attention. Once you are all in to make your restaurant a success, branding becomes a part of you. Follow the above steps and create a huge name for your brand.
At ILLUMINZ, we help brands gain popularity with the right and strategic approach. Over the last 8 years, we have been working with clients like Swiggy and Mendos and helped restaurants make better relationships with customers all over India. Get in touch with us to know more about our services.
FAQ
Ques 1: Which color theme is best for restaurants Dark or Light?
Ans-1: A bright color scheme is frequently applied to make a tiny space appear larger than it is. Light shades create a relaxed and pleasant environment. However, a dark theme gives off a luxurious vibe. Fine dining restaurants typically employ black and dark brown.
Ques 2: Helpful tools for positioning and branding your brand?
Ans-2: A Lean Canvas or Business Model Canvas is a useful tool for describing your positioning and building your brand. These tools or frameworks enable you to effortlessly write down your thoughts in a step-by-step approach. The end product is an excellent overview of your brand and company.
Ques 3: How can we measure the success of our restaurant branding efforts?
Ans 3: This is a tricky question because the definition of success may vary. For some, success may mean attracting a high volume of customers, while for others, it may be more focused on metrics such as customer engagement, repeat customers, brand recognition, online reviews and ratings, sales and revenue growth, and customer loyalty. It is important to define clear metrics for success and regularly track and evaluate them to assess the effectiveness of the branding strategy.