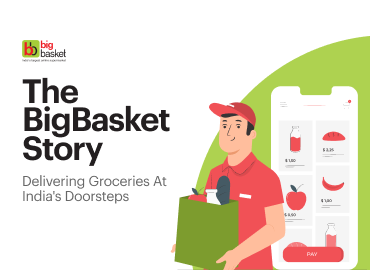 When asked about whether Shah Rukh Khan really buys his groceries from BigBasket, the CEO and Co-Founder of the company, Hair Menon, said
"There's always a minor poll & row in the Mumbai office on who would go and deliver his order."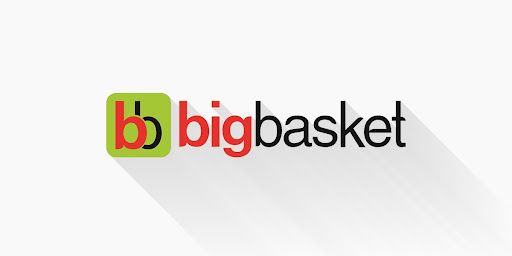 BigBasket has come a long way and has turned into the face of grocery delivery in India.
At first glance, it appears to be just like your average app-based supermarket, but trust me, my friend, — BigBasket's business model is a lot more complex than merely offering products from different sellers.
Why you ask?
Because here we're talking about a company that entirely transformed how India buys its groceries. The company has positioned itself at the forefront of the country's e-grocery revolution, received funding of over $500 million, and was valued at over $2 billion in 2020.
Amazing, isn't it?
Did you know that BigBasket is currently operating in 25+ cities and hosts over 60,000+ products on its platform?
By hitting the annual $1 Billion gross sales mark in June 2020 for the first time, which is why more than any other grocery delivery platform in the country — BigBasket has made it evident that it has become the King of grocery needs of Indians.
But how did BigBasket reach here? What was their journey like so far? Let's Find out.
The Rise Of BigBasket
You know, while the company was launched in 2011 — the story of its origin dates all the way back the last millennia i.e. 1999. It was then when the founders of BigBasket decided to exploit the new era of innovation and digitalization brought by the dot com bubble.
Unfortunately, their first attempt at e-Groceries Fabmart.com failed within a few months of its launch — and they realized that people were not ready for this buzz of digitization, especially in the grocery delivery sphere.
And then over a decade later, their team reunited & started re-evaluating the old idea of on-demand grocery delivery — but with a modern, digital twist.
Of course, they didn't want to make the same mistake again, but they really wanted to build something that would put them on the map. So when the apps + smartphone market was booming in around 2011 — they found their chance as anything & everything was being sold online, except groceries.
That was their eureka moment.
BigBasket's Big Bottlenecks
In their journey so far, BigBasket has faced several significant challenges that have bogged down far too many times. But let's talk about two of them in particular — which troubled nearly every other grocery delivery startup too.
User Acquisition and Migration
In its early days, the biggest bottleneck was to migrate the users from the traditional brick-and-mortar grocery shops to a genuinely new yet convenient shopping experience.
The CEO of the company, Hari, attributed this hesitancy of their potential customers to the fact that people were unwilling to shift from their typical buying patterns — simply out of habit.
To tackle this issue, BigBasket followed a really unique but effective strategy. They started keeping accounts of all the varied needs + shopping habits of their (potential) customers from different cities.
And later, they did all their planning city-wise.
They raised the number of leafy greens in Mumbai, provided a particular type of rice (named Sona Masoori) in Bangalore, and even provided eight different varieties of eggplants — and met everyone's needs with the variety they offered.
All in all, the company ensured their users found relatable goods, with a broader variety, where quality was nothing short of perfection.
Missed Delivery Time & Perishable Nature Of The Goods
Bigbasket's most challenging task was to provide service to consumers within the promised time frame. The perishable nature of the product compounds BigBasket's complications.
Because there were so many players in the e-grocery business, customer happiness has been the only way to stand out. And because of the nature of the product, the consumer is hugely reliant on fresh and timely deliveries, which might completely derail their day. An unhappy consumer will quickly migrate to another provider, affecting business and revenue.
The limited window between the order and the delivery time was another concern for Bigbasket. This means that shipments have a tiny planning window, which is extremely difficult to manage using manual planning techniques.
To address the issues above, Bigbasket teamed with Locus, an AI-based supply chain decision-making platform. Bigbasket worked with Locus to automate its route planning process and optimize operations at each leg of its journey.
Locus offered Dispatcher, complete route optimization, and a tracking system, allowing riders to deliver more in less time.
The Differentiating Factors — What Made BigBasket Different?.
Despite its rapid growth, BigBasket confronts fierce competition in the on-demand grocery delivery marketplace. Startups like LocalBanya, Sequoia-backed PepperTap, and SoftBank-backed Grofers have been some of its major competitors for a very long time.
Even though these players are gaining a strong market position over time, the company tends to win the market with its more extensive, ever-growing consumer base and innovative supply chain management innovations.
You see — order filling has always been a significant challenge for e-grocery brands, and it was something BigBasket suffered too. BigBasket used to get its products from METRO Cash & Carry and HyperCity in the beginning. Although it provided the organization with some scalability, only 60% of the order basket was filled.
To make it more transparent — if you ordered ten products from BigBasket, they could deliver only 6 out of them. And that didn't really go well with the customers.
In no time, the founders learned that Increasing the order filling rate was the only way they had to sustain the company. And for that, they decided to build their supply chain, get and stock products in warehouses.
And to achieve that, they went to the farmers directly and started procuring fresh fruits and vegetables for their customers. This saved them the middlemen's cost and helped them deliver fruits and vegetables while keeping them fresh and ripe.
The result?
The company was able to take its Fill Rates from 60% to 99.5% by the year 2018. And while BigBasket was building a robust supply chain structure, most of its competitors, such as PepperTap, either left the ground or had to leave because of a lack of funds or resources, like in the case of LocalBanya.
BigBasket has set up 30 collection centers across the country and retrieves 60 percent of fruits and vegetables directly from the farmers.
Every center has approximately 20 agronomists to inform the farmers about the quality and standards that we need. They also help farmers when crops should be cultivated, which seeds and tools should be used. These farmers supply at the collection center, where quality is measured, processed, and verified. Currently, they are working with 20,000 farmers.
BigBasket & Contractual Farming.
Contractual farming for fruits, vegetables, and other grocery items is something that BigBasket could dabble into in the near future as it can turn out to be extremely beneficial for both — the farmers & BigBasket.
With Contractual Farming, the farmers will have a guaranteed source of income and a sense of security while BigBasket and other grocery delivery businesses will have access to fresh crops at the cheapest rates possible since the middlemen will not be present here.
Parting Note
BigBasket has truly transformed how Indians buy their groceries.